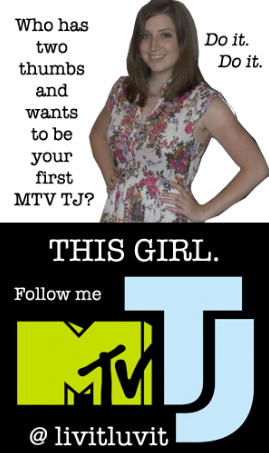 Want to know something crazy? I don't even know this girl. I almost knew her once, but then I went to dinner with my husband instead of crossing the river for a LiLu DC happy hour. Shame on me.
Anyway, she's trying to be MTV's first Twitter Jockey (TJ). Sooooooooooo not something I would even know the first thing about doing!! I haven't quite figured out yet why Twitter exists...
But, anyway. She needs people to vote for her. When the voting may be, that is. I think on August 8.
I could kind of (but not really since I missed the happy hour) know someone super-reality-show famous! Holla.